"I always wanted to write novels, but never believed that I could," says author Vincent Panettiere.
Self-effacing words perhaps for a man who has since gone on to become an award-winning and best-selling author.
Vincent started life in Brooklyn, New York, where he was the only boy in a family of six children.
"I wrote my first short story when I was in high school, and I sent it to women's magazines as I didn't know any different. One of them kindly wrote back, thanking me for my time but saying that they wouldn't be publishing it. But from the other magazine, I had a handwritten note.
"It was a very encouraging note, acknowledging that I was young and still had time to develop my writing skills. I carried that note around in my wallet for many years afterwards. It was the first encouraging response I'd received for writing."
At the Catholic high school that Vincent was attending, he showed the short story to one of the brothers.
"He took me aside and asked if there was divorce in my family or any other problems at home because of the subject matter featured in the story. As it happened, that wasn't the case – it was just a story that came to me, but it made me realize that I was able to reach people through my writing."
At college, Vincent wrote for their literary magazine and newspaper. After graduation, he became a sportswriter for UPI, the wire service, before landing a similar position at the Boston Herald, a major daily newspaper, while in graduate school.
Executive positions at CBS and Twentieth Century Fox Television followed, requiring that his dream be put aside for economic reality. But, his desire to write would not disappear.
"I was challenged by NaNoWriMo, National Writing Month. This contest requires writers complete a novel of 50,000 words in thirty days. It was the first time I'd written creatively since my short story at school. I wrote the novel The Music of Woman on time and with the requisite word count. I even have a t-shirt stating my accomplishment as proof. I asked myself why I couldn't repeat the same creative feat with the other ideas I'd had."
Vincent set about penning gripping, action-packed mysteries that left readers wanting more.
"I wrote A Woman To Blame back in 2014 and that was followed two years later by These Thy Gifts, which is a forbidden love story spanning 50 years between a priest and the widow of a mobster. It's the work I'm happiest with and the priest I had in mind when I was writing it, although not based on him, was a friend of my father's when I was a youngster."
The novel earned 5 stars from Reader's Favorite, won a respectable second place in Literary and Contemporary Fiction from CIPA, and also the Reviewers' Choice Award in General Fiction/Novels.
Vincent's biggest-seller to-date is The Scopas Factor, an enthralling thriller that sees Detective Mike Hegan struggling with both his dark past and his attempts to solve the seemingly never-ending web of crime in his latest case.
"It's a story of art forgery that takes places across the globe. I took the name Scopas from an art history book. He was a Greek sculptor but sadly very little remains of his work – just a few fragments here and there. I thought it'd be pertinent to the subject matter I was working with.
"I'm also familiar with the south of France so I weaved that into the story to add a touch more realism to it."
Vincent's ability to keep the reader hooked through unexpected twists and turns has earned the book glowing reviews.
"The Scopas Factor has been my best seller. I'm not taking about New York Times top ten here. It's modest. Self publishing is not ego – but it's nice that it's out there and that people are enjoying reading them."
The Scopas Factor, published in 2018, is crisply written and influenced by the film noir style.
"I don't tend to write with a big message hidden in the story. There's a saying in TV circles that if you're looking to send a message, call Western Union.
"For me, I don't write to broadcast a message, not unless there's room to do so. I like to focus on keeping my readers entertained and often that involves bringing them joy, rather than trying to shift their way of thinking."
Like all writer's, Vincent has had to face the dreaded writer's block – something he's currently experiencing on his latest book:
"I've completed ten chapters of my current book but I'm struggling with Chapter 11. I'm fine with it though – it happens. I don't dwell on it too much. Often, I'll go to bed with the problem at the back of my mind and I'll wake up the next day with a solution to it.
"One of the biggest challenges I've faced is marketing my books. As a self-published author, it's one thing to write your book. The more difficult and more time-consuming task is then trying to sell yourself and your books.
"I come from a publicity background, so you think it'd be second nature to me but that's not quite the case. When I'm writing, I don't actively think about the marketing of it. I don't have a Random House behind me so I do what I can once I've published – Twitter campaigns, taking part in interviews and getting reviews, things like that. For me, it's a little-by-little approach to keep myself in my readers' minds. I know that there are certain writers out there who write to market but I prefer to mainly write for my own enjoyment, and hopefully therefore, my readers."
Vincent's five novels are available worldwide on Amazon and other recognised outlets.
And while he works on his latest novel, fans can look forward to Vincent's republishing his critically-acclaimed and award-winning novel, These Thy Gifts later this year: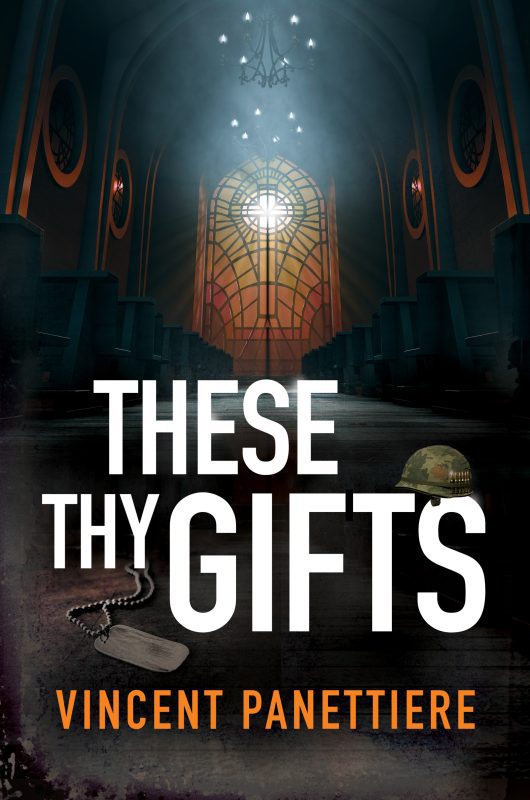 "The book is currently going through the production process. It's got a new cover, designed by a great guy from London who has worked on my previous books. The book was very well received when it came out originally so I'm looking forward to getting this version into the hands of new readers."
After spending years honing his craft, Vincent has come a long way from the short story he sent to women's magazines all those years ago. If the reviews and awards are anything to go by, it looks like Vincent has achieved that dream.
Discover Vincent's books at the Indie Book Store here